Advice for First-Generation Homebuyers

The sense of pride you'll feel when you purchase a home can't be overstated. For first-generation homebuyers, that feeling of accomplishment is even greater. That's because the pride of homeownership for first-generation buyers extends far beyond the homebuyer. AJ Barkley, Head of Neighborhood and Community Lending for Bank of America, says:
"Achieving this goal can create a sense of pride and accomplishment that resonates both for the buyer and those closest to them, including their parents and future generations."
In other words, your dream of homeownership has far-reaching impacts. If you're about to be the first person in your family to buy a home, let that motivate you throughout the process. As you begin your journey, here are three helpful tips to make that dream come true.
1. Reach Out to a Real Estate Professional
It's important to reach out to a trusted advisor early in your homebuying process. Not only can an agent help you find the right home, but they'll serve as your expert advisor and answer any questions you might have along the way.
The latest Profile of Home Buyers and Sellers from the National Association of Realtors (NAR) surveyed first-time homebuyers to see how their agent helped them with their home purchase (see chart below):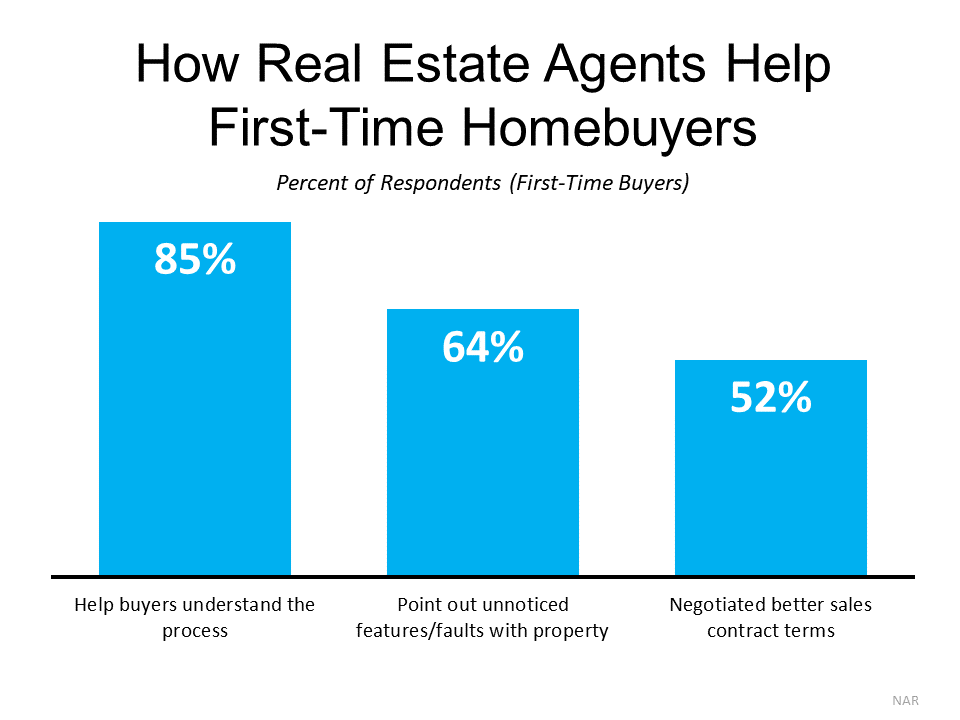 As the graph shows, your agent is a great source of information throughout the process. They'll help you understand what's happening, assess a home's condition, and negotiate a contract that has the best possible terms for you. These are just some of the reasons having an expert in your corner is critical as you navigate one of the most significant purchases of your life.
2. Do Your Research and Know What You Can Afford
The second piece of advice for first-generation homebuyers is practical: do your research so you know what you can afford. That means getting your finances in order, reviewing your budget, and getting pre-approved through a lender. It also means learning the ins and outs of what it takes to pay for your home, including what you'll need for a down payment.
Many homebuyers believe the common misconception that you can't purchase a home without coming up with a 20% for a down payment. As Freddie Mac says:
"The most damaging down payment myth—since it stops the homebuying process before it can start—is the belief that 20% is necessary."
The chart below shows what recent homebuyers have actually put down on their purchases: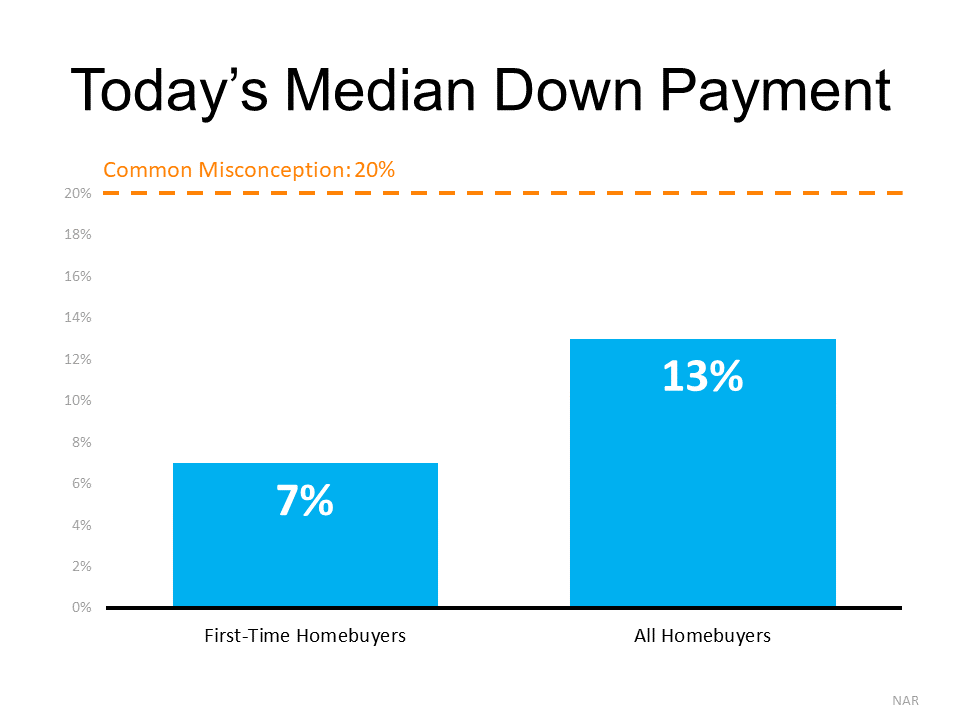 On average, first-time buyers only put 7% down on their home purchase. That's far less than the 20% many people believe is necessary. That means your down payment, and your home purchase, may be in closer reach than you realize. Keep that in mind as you work with a real estate professional to better understand what you'll need for your purchase.
3. Don't Lose Sight of What Home Means to You
Finally, it's important keep in mind why you're searching for a home to begin with. Overwhelmingly, first-generation homeowners recognize the financial and non-financial benefits of owning a home. In fact, in a recent survey:
73% of first-generation homeowners say the safety and security homeownership provides is increasing in importance.
Nearly two-thirds of first-generation homeowners say the importance of building equity in a home is growing more important as well.
As AJ Barkley explains:
"For many first-generation homeowners and their families, homeownership has a unique importance, given the collective efforts to overcome financial challenges that can often span generations…"
Bottom Line
If you're a first-generation homebuyer, being prepared and working with a trusted expert is key to achieving your dream. Let's connect today so you can get started on your path to homeownership.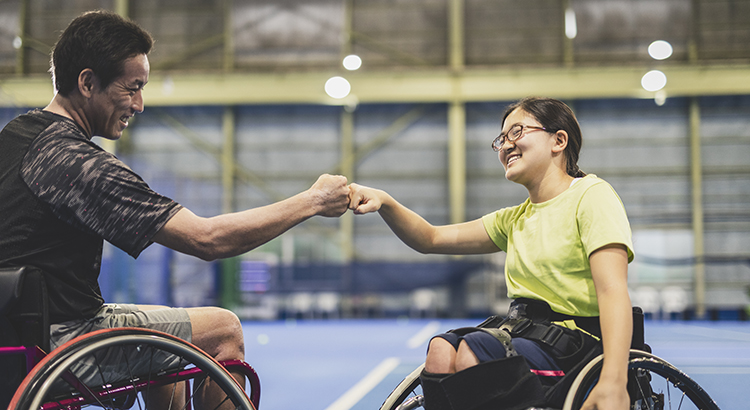 Win When You Sell (And When You Move)
If you're trying to decide when to sell your house, there may not be a better time than this winter. Selling this season means you can take advantage of today's strong sellers' market when you make a move.
Win When You Sell
Right now, conditions are very favorable for current homeowners looking for a change. If you sell now, here's what you can expect:
Your House Will Stand Out – While recent data shows there are more sellers getting ready to list their homes this winter, there are still more buyers in the market than there are homes for sale. If you sell your house now before more houses are listed, it will get more attention from serious buyers who are eager to find a home.
Your House Will Likely Get Multiple Offers – When supply is low and demand is high, buyers have to compete with each other for a limited number of homes. The latest Realtors Confidence Index from the National Association of Realtors (NAR) shows sellers are getting an average of 3.6 offers in today's market.
Your House Should Sell Quickly – According to the same report from NAR, homes are selling in an average of just 18 days. As a seller, that's great news for you if you're looking for a quick process.
Win When You Move
In addition to these great perks, you'll also win big on your next move if you sell now. CoreLogic reports homeowners gained an average of $51,500 in equity over the past year. This wealth boost is the result of buyer competition driving home prices up. You can leverage that equity to fuel a move, before mortgage rates and home prices climb higher. To get a feel for how rates are projected to rise, see the chart below.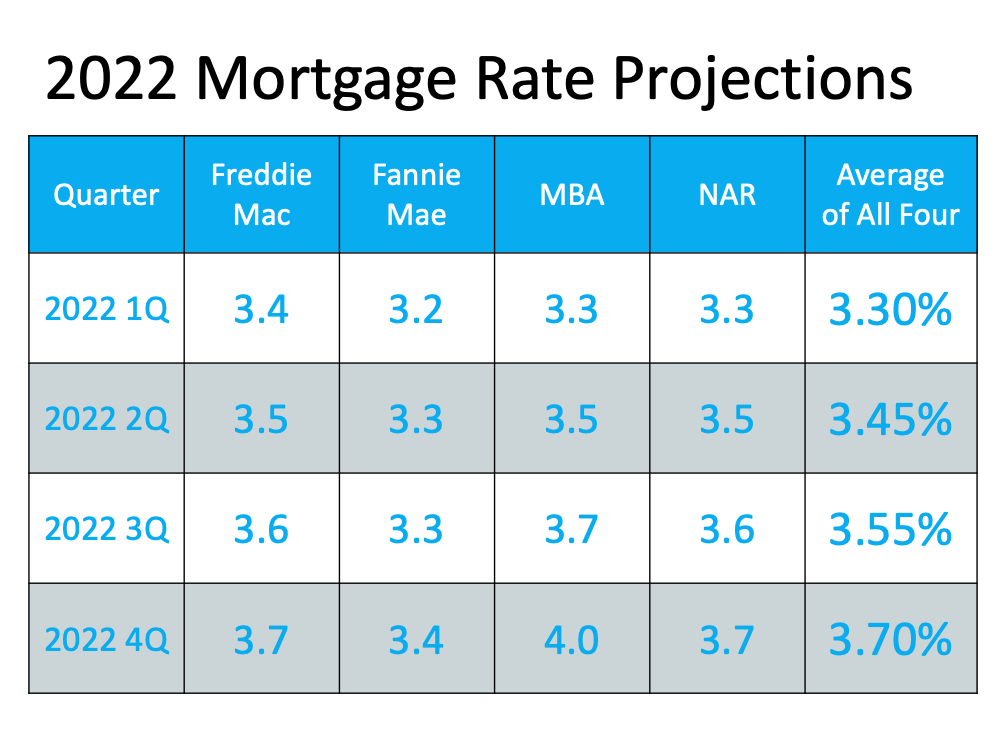 The longer you wait to make your move, the more it will cost you down the road. As mortgage rates rise, even modestly, it will impact your monthly payment when you purchase your next home. Waiting just a few months to make that change could mean a long-term financial impact.
The good news is today's rates are still hovering in a historically low range. According to Doug Duncan, Senior VP and Chief Economist at Fannie Mae:
"Right now, we forecast mortgage rates to average 3.3 percent in 2022, which, though slightly higher than 2020 and 2021, by historical standards remains extremely low . . ."
Selling before rates climb higher means you can make your move and lock in a low rate on the mortgage for your next home. This helps you get more home for your money and keeps your payments down too.
Bottom Line
As a homeowner, you have a great opportunity to get the best of both worlds this season. You can truly win when you sell and when you buy. If you're thinking about making a move, let's connect so you have the information you need to get the process started.
Come see the dazzling display of lights at

Enchant

! Nationals Park hosts one of the largest public lights displays once again, filled with skating, mazes, and treats. This year, Eddie the Elf has misplaced some very important gifts, and needs your help finding them! Check out the website tickets and entry times.


Local Holiday Markets

Looking for that special one-of-a-kind gift but don't know where to go? Check out

this

article for your guide to local holiday markets in our area!

In the mood for some holiday cheer away from your normal haunts?

Washingtonian

has put together a list of their favorite holiday destinations within a short drive of the local area. Whether you're into caroling, Santa spotting, or parades, this guide has you covered!

Reindeer Romp

Lace-up this December 18th for a good cause! The 2021 Reindeer Romp 5k & 10k will take you on a scenic run along the historic C&O Canal! The event helps to support local veterans as well. Click

here

for information on how to register.

Looking for a Washington DC residence that radiates style and sophistication? Experience loft-style living in this stunning abode built by noted developer Paul Robertson. Step inside and explore a streamlined interior that offers 2 well-sized bedrooms and 2 tastefully designed baths. High-end finishes and unique touches are on display throughout, including polished masonry walls.

Brilliant sunlight spills through towering windows that pair with soaring 23-foot ceilings to create a bright and inviting vibe in the living room. Energy-saving, low voltage recessed lighting glows above the adjoining dining area where lucky guests will enjoy savoring gourmet meals. Show off your cooking skills as you whip up your favorite dishes in the custom kitchen where you'll have high-end stainless steel appliances and a breakfast bar with seating. Granite countertops adorn your Poggenpohl cabinetry; shaped by generations of expert craftsmanship, they're a leader in luxury brands.

A dramatic, open staircase leads you to a comfortable upstairs loft. It offers an ideal spot to set up a home office or create a media and gaming room. Ultimate relaxation awaits in your sunlit primary bedroom where large windows and a refined color palette highlight a cheerful sitting area. With 4 closets on offer, you'll have all the storage you need. Unwind as you enjoy the comforts of your sophisticated private bath that features a soothing 2-person shower. When you're ready for a breath of fresh air, retreat to your private courtyard and soak in the sun, enjoy al fresco dining or install a spa for unwinding after a long day.

Take advantage of the rare opportunity to possess a dramatic and roomy loft in a very popular part of the city, and it includes a secured parking space for one vehicle. As a premium perk, plans and permits to combine this unit with the neighboring unit are available. Style, function, and so much more await you in this incredible residence, and you'll be living in an unbeatable location with very easy access to all the popular shops, restaurants, nightclubs, art galleries, and music venues in the famous U Street Corridor. If you're ready to experience an exciting loft residence that has everything you could ask for, come take a tour before it's gone for good!




Posted by Justin Paulhamus on