Don't Wait For Mortgage Rates to Drop!
Today's housing market is truly one for the record books. Over the past year, we've seen the lowest mortgage rates in history. And while those rates seemed to bottom out in January of this year, the golden window of opportunity for buyers isn't over just yet. If you're one of the buyers who worry they've missed out, rest assured today's mortgage rates are still worth taking advantage of.
Even today, our mortgage rates are below what they've been in recent decades. So, while you may not be able to lock in the rate your friend got recently, you're still in a great position to secure a rate well below what your parents and even grandparents got in years past. The key will be acting sooner rather than later.
In late September, mortgage rates ticked above 3% for the first time in months. And according to experts throughout the industry, mortgage rates are projected to continue rising in the months ahead. Here's where experts say rates are headed:While a projected half percentage point increase may not seem substantial, it does have an impact when you're buying a home. When rates rise even slightly, it affects how much you'll pay month-to-month on your home loan. The chart below shows how it works: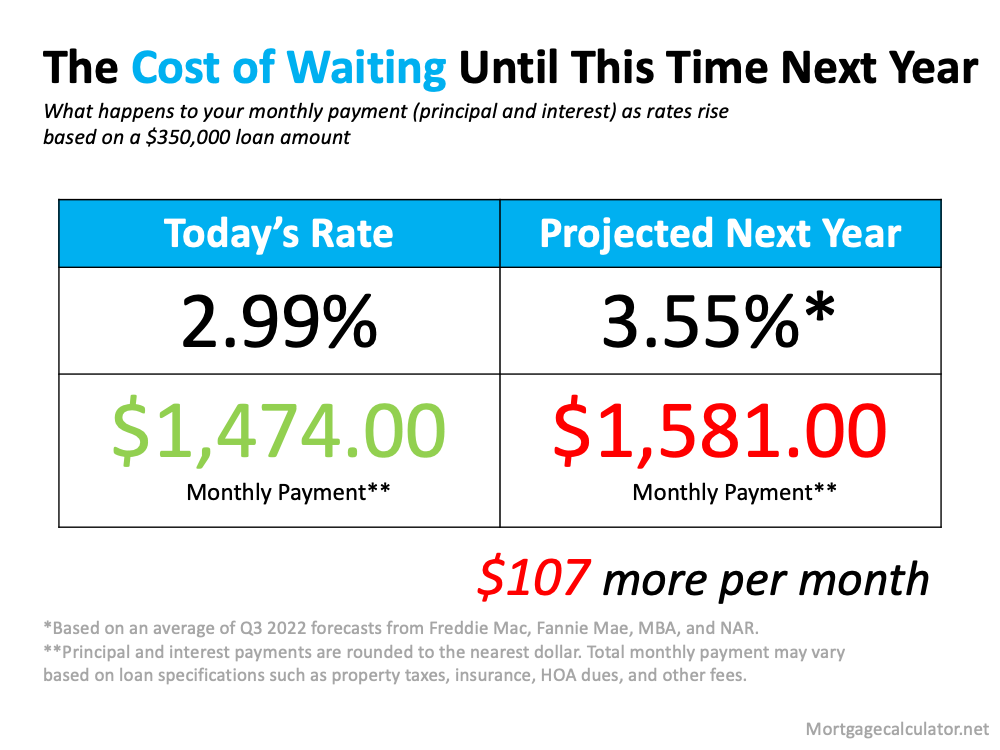 In this example, if rates rise to 3.55%, you'll pay an extra $100 each month on your monthly mortgage payment if you purchase a home around this time next year. That extra money can really add up over the life of a 15 or 30-year loan.
Clearly, today's mortgage rates are worth taking advantage of before they climb further. The rates we're seeing right now give you a unique opportunity to afford more home for your money while keeping your monthly payment down.
Bottom Line:
Waiting for a lower mortgage rate could cost you. Experts project rates will continue to rise in the months ahead. Let's connect so you can seize this opportunity before they increase further.


Should You Renovate or Move?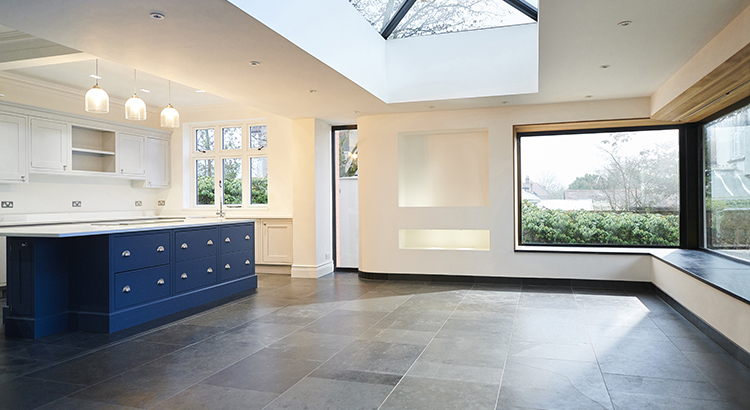 The last 18 months changed what many buyers are looking for in a home. Recently, the American Institute of Architects released their AIA Home Design Trends Survey results for Q3 2021. The survey reveals the following:
70% of respondents want more outdoor living space
69% of respondents want a home office (48% wanted multiple offices)
46% of respondents want a multi-function room/flexible space
42% of respondents want an au pair/in-law suite
39% of respondents want an exercise room/yoga space
If you're a homeowner who wants to add any of the above, you have two options: renovate your current house or buy a home that already has the spaces you desire. The decision you make could be determined by factors like:
A possible desire to relocate
The difference in the cost of a renovation versus a purchase
Finding an existing home or designing a new home that has exactly what you want (versus trying to restructure the layout of your current house)
In either case, you'll need access to capital: the funds for the renovation or the down payment your next home would require. The great news is that the money you need probably already exists in your current home in the form of equity.
Home Equity Is Skyrocketing
The record-setting increases in home prices over the last two years dramatically improved homeowners' equity. The graph below uses data from CoreLogic to show the average home equity gain in the first quarter of the last nine years: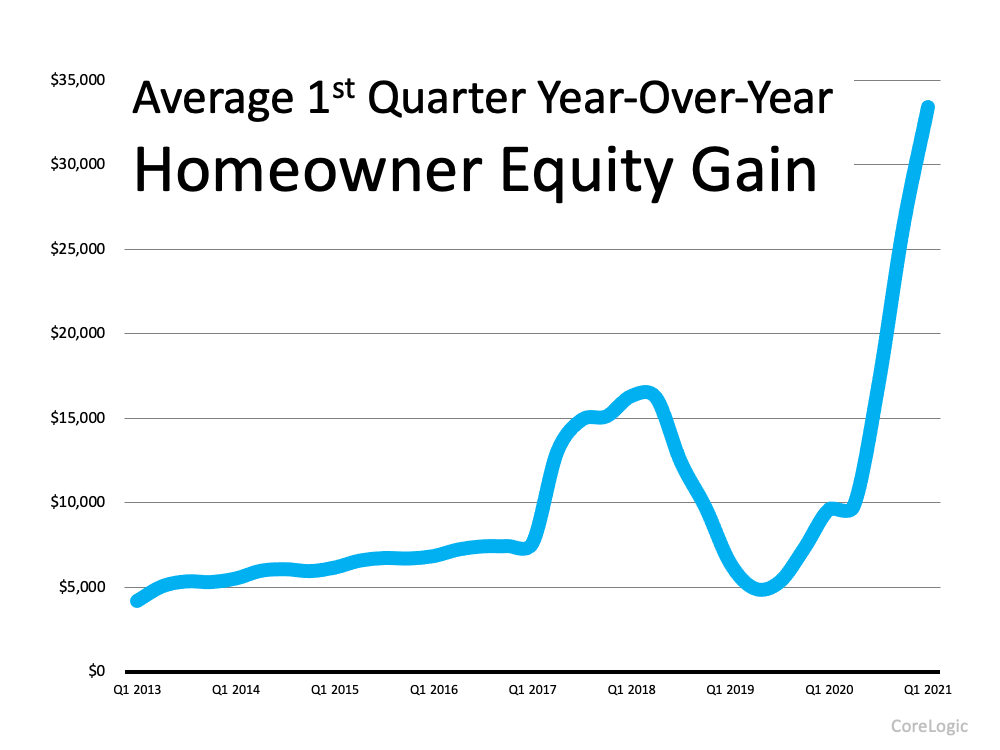 Odeta Kushi, Deputy Chief Economist at First American, quantifies the amount of equity homeowners gained recently:
"Remember U.S. households own nearly $35 trillion in owner-occupied real estate, just over $11 trillion in debt, and the remaining ~$24 trillion in equity. In inflation adjusted terms, homeowners in Q2 had an average of $280,000 in equity- a historic high."
As a homeowner, the money you need to purchase the perfect home or renovate your current house may be right at your fingertips. However, waiting to make your decision may increase the cost of tapping that equity.
If you decide to renovate, you'll need to refinance (or take out an equity loan) to access the equity. If you decide to move instead and use your equity as a down payment, you'll still need to mortgage the remaining difference between the down payment and the cost of your next home.
Mortgage rates are forecast to increase over the next year. Waiting to leverage your equity will probably mean you'll pay more to do so. According to the latest data from the Federal Housing Finance Agency (FHFA), almost 57% of current mortgage holders have a mortgage rate of 4% or below. If you're one of those homeowners, you can keep your mortgage rate under 4% by doing it now. If you're one of the 43% of homeowners with a mortgage rate over 4%, you may be able to do a cash-out refinance or buy a more expensive home without significantly increasing your monthly payment.
First Step: Determine the Amount of Equity in Your Home
If you're ready to either redesign your current house or find an existing or newly constructed home that has everything you want, the first thing you need to do is determine how much equity you have in your current home. To do that, you'll need two things:
The current mortgage balance on your home
The current value of your home
You can probably find the mortgage balance on your monthly mortgage statement. To find the current market value of your house, you can pay several hundreds of dollars for an appraisal, or you can contact a local real estate professional who will be able to present to you, at no charge, a professional equity assessment report.
Bottom Line:
If the past 18 months have refocused your thoughts on what you want from your house, now may be the time to either renovate or make a move to the perfect home.
In Concert With 4J Real Estate
4J Real Estate is proud to sponsor the Congressional Chorus in their upcoming concert series,
A Nightmare on G Street
! The Chorus' first live, in-person concert since 2019, audiences will jam out with the live band for choral performances of vintage Halloween hits like Monster Mash, Time Warp, and Thriller. Four opportunities to experience the show on October 29 & 30.
Shop Local
Shop local with
Creek
! Creek is a new online small business that connects local retailers and artisans with their customers. Their mission is to help existing local businesses flourish, help more local businesses get started, and help more DC residents enjoy local shopping, knowing their money goes right back into supporting their community. Delivery available on all orders.
50 New and Exciting Restaurants
A Japanese food hall, cheffy pizza, cocktails with dim sum—and other spots to look forward to. These are just a few of the new and exciting restaurants to try this Fall/Winter. See the
entire list
from the Washingtonian and plan your upcoming meals now!
Find Your Patch...Pumpkin, Of Course!
2021 pumpkin patches in Northern Virginia deliver family-friendly Autumn fun with slides, tunnels, swings, corn mazes, and fall festivals guaranteeing happy times for all. From multi-acre corn mazes to laid-back pumpkin displays at local garden centers, there are fun Northern Virginia pumpkin patches for every budget. Follow
this link
to find your new favorite patch!
Scariest Place In Town
Markoff's Haunted Forest
is Maryland's original greatest Halloween event, and you will be amazed by what you find lurking in their woods! Attractions include a spooky family carnival, haunted forest, and more. But beware, this trek is not for everyone! We don't recommend the trail for kids under age 12, since each bend in the path is truly frightening! Follow the link for more information and tickets.
If you've been dreaming of elegant living in the Washington, DC area, then look no further than this immaculate townhome you're sure to appreciate. Ideally crafted for entertaining, step into the impressive free-flowing layout where recessed lighting overhead casts a striking glow on the crisp white tones throughout. Multiple windows offer lush outdoor views and usher in abundant natural light to showcase the gleaming hardwood-style flooring cascading underfoot. Exposed-brick accent walls lend a unique historic charm to the open and inviting interior and contrast nicely with the dramatic black staircase.

Gather in the sunlit living room and enjoy lively conversation as you bask in the warmth of the ethanol-fueled fireplace. A series of custom built-ins offer ample storage while providing an ideal spot to display your prized memorabilia. Seamlessly flow into the dining area to savor gourmet meals. Sure to impress, the home chef will appreciate cooking in the modern and sophisticated kitchen where top-of-the-line stainless steel appliances await, along with stylish cabinetry paired with a chic subway tile backsplash, an island for additional prep space, and a water filtration system. Plus, you'll have direct access to the backyard deck where you could host weekend cookouts, enjoy al fresco dining or spend leisurely days soaking up the sun.

Once you discover the unique features of the private retreats, you might never want to leave. Imagine curling up with a good book in the cozy nook by the windows, or perhaps you'd prefer to retire to the secondary bedroom suite displaying eye-catching tile work in its bath. Surpassing them all is the primary bedroom showcasing a custom, built-in closet and ceiling fan overhead to keep you cool during warmer days. Offering the ultimate in relaxation, the opulent ensuite features a floating vanity and a stunning walk-in shower with 4 rain showerheads.

One of the prized perks of living in this immaculate residence is hosting celebrations in the large, fully finished basement where you can enjoy game nights with friends. It's also equipped with a kitchenette that comes in handy for shaking up your favorite craft cocktails, as well as custom built-in bookcase with lighting. For your convenience, there's also a laundry room with additional storage. Explore additional noteworthy features, including a wireless Verizon Fios system, updated HVAC and drainage systems, a security system with cameras, a Ring doorbell, smart locks, and off-street parking for two cars. As a bonus, both the porch roof and upper-level windows have been waterproofed. All this and more could be yours, so come for a tour before the opportunity's gone for good!

Check out our latest client testimonial and learn why 4J is all about Realestationship!

Posted by Justin Paulhamus on